#SayftyChat is a weekly, hour-long, Twitter chat created by Sayfty to explore topics related to women's safety and prevention of violence against women. So every Monday at 11:00 am ET, we invite an organization/guest that joins us in raising awareness on women's issues. We field questions to them and to you, the #SayftyChat community. Together, we answer these questions and engage in a dialogue on topics related to women's safety and ending violence against women.
Started in May of 2015, we have successfully hosted 120 weekly chats till date. These chats would not have been possible without our wonderful hosts Kavita, Krishnapriya, Subuhi, and Shruti. Most of all, a big Thank You to a great community of Twitter followers and our partners who join us weekly for an engaging discussion.
Featured #SayftyChat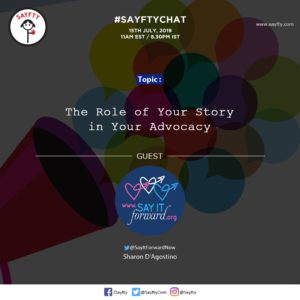 #SayftyChat average analytics: 15 million impressions and over 1.2 million in reach, 150 unique users.
Upcoming #SayftyChats
| Date | Guest Name | Topics | Twitter Handle | Host's Name |
| --- | --- | --- | --- | --- |
| 07/08/2019 | Lucia Harper | Leaving Abusive Relationships | @YEPbusiness | Subuhi Safvi |
| 07/15/2019 | Say It Forward | The Role of Your Story in Your Advocacy | @sayitforwardnow | Shruti Kapoor |
| 7/22/2019 | Adam Rogers | Women Safety & Travel | @AdamRogers2030 | |
| 7/29/2019 | Zama Neff | TBD | @ZamaHRW | |
A recap of some of our most successful chats

Most of all, to Receive information on our upcoming chats, recaps and guest bios please follow us on Twitter.
If you would like to be a guest, please email team@sayfty.com