Bio
Dr. Shruti Kapoor is an award-winning gender equality activist, economist, and social entrepreneur who is passionate about the safety of girls and women. Shaken by the horrific gang rape in Delhi 2012, she founded her organization, Sayfty in June 2013 to educate and empower the women and girls of India against violence. The initiative aims at creating awareness of laws and legal rights around the issue of violence against women. It also uses digital media, tech-for-good, and storytelling to advocate for women's safety.
The Indian Ministry of Women & Child Development recently felicitated Dr. Kapoor with the #WebWonderWomen award to celebrate the exceptional achievements of women, who have been driving positive agenda of social change via social media. Dr. Kapoor served on the judging panel for Anu and Naveen Jain's Women Safety Xprize competition. In 2016, The White House nominated Dr. Kapoor as a changemaker for The United State Of Women Summit 2016. Sayfty was awarded the People's Choice Award by Femverstising (2015) and won a State recognition award by the Uttar Pradesh government in India for the organization's work on safety and education of girls. In 2015 also, Dr. Kapoor was awarded the Rex Karamveer fellowship, "to share impactful ideas for action and transform lives through projects and ideas of hope," and was awarded "Woman of the Year (third prize)" by Regional Council, Aosta Valley, Italy.
Dr. Kapoor holds a Ph.D. in Economics from the University of CA, Riverside. She has consulted at UN Women and the World Bank in Washington DC. She has also served as an Adjunct Professor of Economics at Occidental College in Los Angeles, CA. More recently, she served on the UN Inter-Agency Network on Youth Development Working Group on Youth and Gender Equality Task Force and Social Media Committees to inaugurate the United Nations Youth Forum for the Commission on the Status of Women. Dr. Kapoor is also a regular contributor on gender issues and network member of Apolitical, a global policy platform and a network of policymakers and thought leaders.
Dr. Kapoor has addressed many national and international public forums including the Youth Assembly at the United Nations (2017,2016), The World Woman Summit (2017), The World Urban Forum (2017) and Merit 360 (September 2016). She is dedicated to using digital media to raise awareness to make our cities safer for women and girls.
You can connect with her on Twitter  & Linkedin
Articles published by Dr. Kapoor
One in three women is a victim of violence. Time for men to step it up, Apolitical, August 2018
What is Consent Culture? The Quint, April 2018
Question & Answers w/ the author of Louisiana Catch, The Aerogram, April 2018 
Culture Change and Law Enforcement Needed To Make India Safer For Women, Europe World Print Edition 35, November 2017
A #DayInTheLife In An Entrepreneur, Gender Equality Activist, Mom, Mogul, March 2017
India: Why I No Longer Fast For My Husband, WorldPulse, January 2017
Global: Why Women Are Missing The Bus (and Train and Taxi), Worldpulse, October 2016
US/India: Let's Change Menstruation Culture, WorldPulse, August 2016
Nutrient Consumption in India: Evidence from a village study, January 2017 (Submitted to Journal of Development Economics)
Speaking Engagements
Republic TV, Featured on Facebook Presents One India: Speak Up Against Gender Violence
KCT Yugam, Kumaragaru University, Coimbatore, 2018
CGTN, America, 2017: Workplace Sexual Harassment
UN International Day Of The Girl Child, Istanbul, 2017
World Forum For Urban Violence and Education For Coexistence and Peace, Madrid, 2017
KeyNote: World Woman Summit, Arkansas 2017
Speaker, Social Entrepreneurship Panel, World Woman Summit, Arkansas 2017
UN International Day Of The Girl Child, Istanbul, 2017: SpeakerUN Summer Youth Assembly, 2017: Opportunities in "Technovation" to create the World We Want and Achieve Gender Equality (Video Link)
UN Youth Forum CSW61 (Moderator): Young Women As an Economic Force
UN Winter Youth Assembly, 2017: Young Women's Economic Empowerment
UN Summer Youth Assembly, 2016: Youth Involvement at the UN
UN Summer Youth Assembly, 2016: Investing in Young Women's Leadership
Other speaking engagements include Merit 360 Conference 2016, Make Room India 2016, Rex Karamveer Awards 2015, International Women of the Year, Aosta Valley 2015 and more.
Media Interviews
For media interviews please visit here
Select Photographs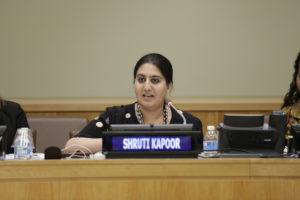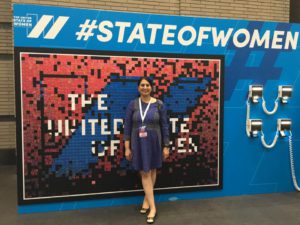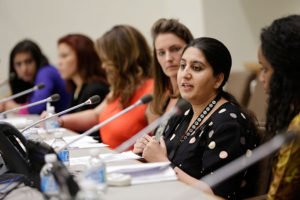 Comments
comments